Oil prices have come under pressure and the US benchmark WTI crude has fallen below $40 a barrel, dimming the outlook of shale oil producers. But I think no oil producer is as well placed as Pioneer Natural Resources (PXD) to face this difficult period. With its solid hedge book and pristine balance sheet, Pioneer Natural Resources can stand firm in the downturn and continue funding its operations, even if oil prices stay low for an extended period.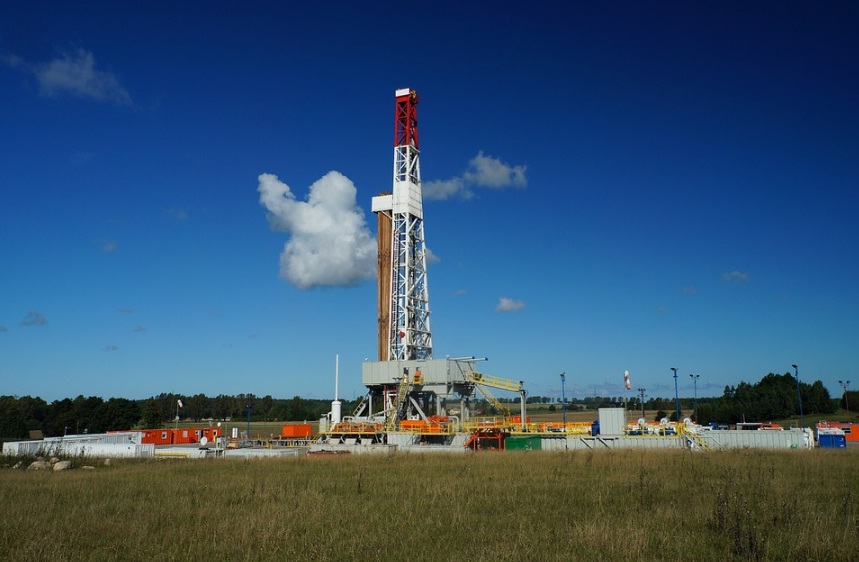 Image courtesy of Pixabay
The oil prices have come under pressure again. The US benchmark WTI crude, which has been hovering in the low-$40s a barrel range since early-July, fell to $36.76 last week and was at $38 at the time of this writing. The decline has been driven primarily by the mounting demand concerns. Saudi Aramco and the Abu Dhabi National Oil, seeing weak demand from Asia, have recently slashed their prices for October delivery but many refiners are unwilling to take advantage of the price cuts by buying more oil, as per a Bloomberg survey. Fuel demand will also witness a seasonal decline in the US as the summer driving season winds down and the maintenance season begins for oil refineries. The increase in supplies from the OPEC+ alliance, a drop in global stocks on fears that a COVID-19 vaccine may get delayed, and the growing tension between Washington and Beijing have also weighed on oil prices.
I think this latest drop in prices may turn out to be short-lived as factors like continued economic recovery, possible acceleration in inventory drawdown, positive developments around the COVID-19 vaccine, and the seasonal uptick in demand could help push oil back to $40 a barrel. The oil price drop, however, has confirmed that we're not out of the woods yet and the market's fundamentals look precarious. This means energy investors should continue exercising caution by buying shares of those companies who can stand firm even if oil prices fall to $30s or lower. In my opinion, Pioneer Natural Resources is best equipped among the independent E&Ps to handle weak oil prices.
Overall, I think most shale oil drillers can withstand oil price shocks, as evident from the industry-wide second-quarter results in which many energy companies successfully preserved their cash flows and protected their balance sheets as crude briefly slipped into the negative territory and averaged just around $28 per barrel for the period. There are some oil producers like Parsley Energy (PE) who benefit from having a low-cost structure and robust hedge coverage which puts them in a good position to deliver decent returns and cash flows in a weak oil price environment. There are others like EOG Resources (EOG) and ConocoPhillips (COP) who usually don't hedge their future oil production but with a high-quality asset base, a rock-solid balance sheet, and ample liquidity, these companies can withstand oil price cycles. But I believe what sets Pioneer Natural Resources apart is that it has both significant hedge coverage and a pristine balance sheet.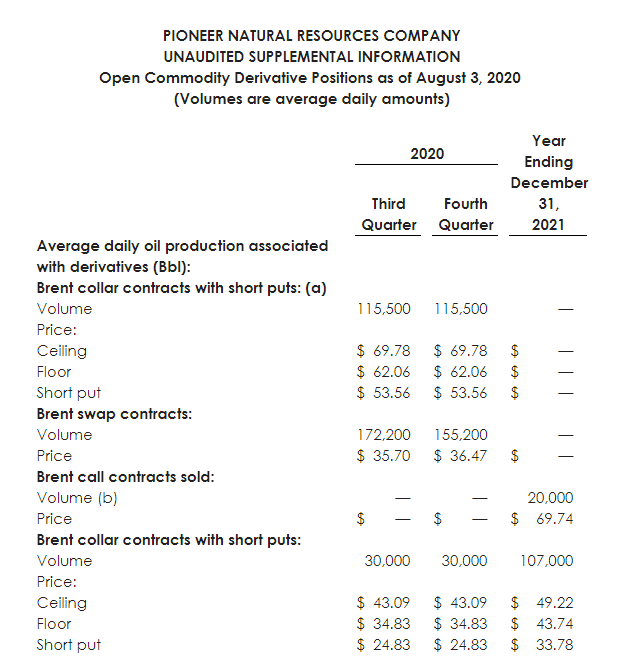 PXD Open Commodity Derivative Positions. Image: PXD 2Q20 Earnings Release.
Pioneer Natural Resources actively hedges its future oil production to protect its cash flows against the threat of a drop in oil prices. The company entered into new derivative contracts after oil prices crashed earlier this year since its original hedge positions (115,500 bpd of Brent collar contracts with short-puts at $53.56/bbl, as shown in the image above) didn't offer sufficient downside protection for a $30-$40 a barrel oil price environment.
In its 2Q20 results, the company showed that it has hedged 172,200 bpd of oil production for 3Q20 using swaps at Brent oil price $35.70 per barrel and 30,000 bpd using three-way collars with the ceiling, floor, and short put prices of $43.09, $34.83, and $24.83 per barrel respectively. Together, these contracts account for around 202,000 bpd of hedge coverage. This means that all of the company's estimated oil production for 3Q20 will be backed by hedges, even if it reports guidance-beating production numbers for the period. Remember, the company has forecasted 191,000-201,000 bpd of oil production for the third quarter.
For 4Q20, Pioneer Natural Resources has hedged 155,200 bpd of oil volumes with swaps with a weighted average price of $36.47 per barrel as well as 30,000 bpd using three-way collars at the same ceiling, floor, and short-put prices as 3Q20. From this, we can estimate that roughly 93% of the company's 4Q20 production is covered with crude oil hedges, assuming Pioneer Natural Resources produces 198,435 bpd in the period, as implied by the company's guidance.
In short, nearly all of the company's H2-2020 production is backed by crude oil hedges. What I also like about Pioneer Natural Resources' hedge positions is that they offer robust downside protection against the risk of a greater than expected decline in oil prices. A vast majority of the production has been hedged using swaps which offer virtually unlimited downside protection. Even if oil prices come under severe pressure and drop to $20s a barrel or even lower, Pioneer Natural Resources will continue receiving a decent price of more than mid-$30s a barrel for most of its barrels.
As for the three-way collars, they will fully protect the company's cash flows as long as oil trades above the short-put price, which is ~$25 per barrel. The three-way collars become less effective if the benchmark price falls below the short-put price and continues to slide. But I think that sub-$25 a barrel oil price environment is a worst-case scenario which likely won't materialize. If, on the other hand, oil prices climb back to low-$40s a barrel, then unlike swaps, the three-way collars will allow the company to capitalize on the recovery.
Thanks to the crude oil hedges, I expect Pioneer Natural Resources to generate enough cash flows to fully fund all or a vast majority of its capital expenditures and dividends in a low oil price environment. I don't think the company will face a large cash flow deficit, but even if it does, it can use its financial firepower to bridge a funding gap. In my opinion, the company is in great financial health. Pioneer Natural Resources has arguably one of the strongest balance sheets in the industry marked by low levels of debt and robust liquidity that can meet a cash flow shortfall.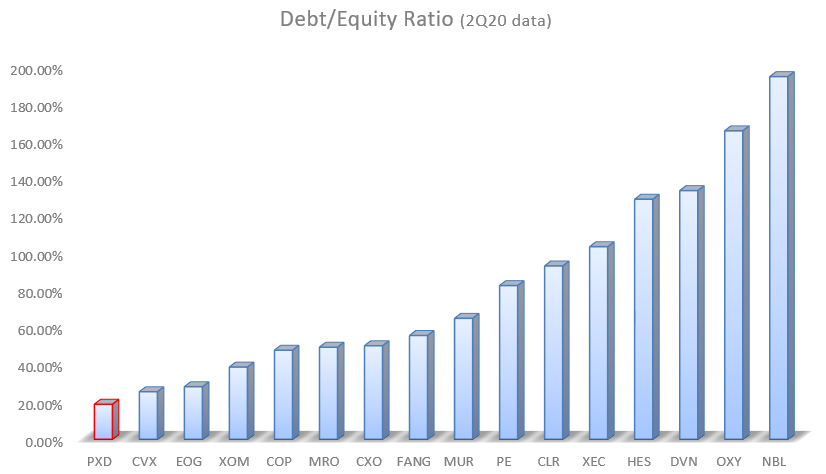 Image: Author. Data: Seeking Alpha Essential, YCharts.
Pioneer Natural Resources ended the second quarter with a total debt of just $2.19 billion, which translates into a debt-to-equity ratio of just 18.7% – the lowest among all mid-to-large-cap oil producers. In August, the company said that it was raising $1.1 billion through a public offering of 1.9% senior notes due 2030. It intends to use the proceeds to help repay $383 million of debt maturing in 2021-22 and for other corporate purposes. From this, we can roughly estimate that the debt offering might cause a $717 million increase in borrowings on a net basis, pushing its total debt to $2.91 billion. That might increase its debt-to-equity ratio to around 25% but its leverage metric will remain one of the lowest in the industry. Besides, after repayment of the above-mentioned debt, the company will have no debt maturities in the near term.
Furthermore, Pioneer Natural Resources ended the second quarter with $1.7 billion of liquidity which includes $1.5 billion available under the revolving credit facility and cash reserves of $180 million. The proceeds from the latest debt offering will likely increase the company's cash reserves and push this liquidity higher.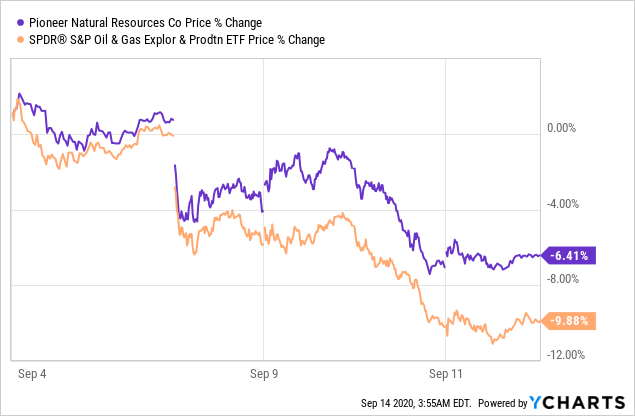 The energy stocks have declined in the past few days, with the SPDR S&P Oil & Gas E&P ETF (XOP), the industry's benchmark fund, tumbling by 10% in the last five days. Pioneer Natural Resources has fared slightly better, falling by 6.4% in the same period. The company's shares will remain subdued as oil continues to trade below $40 per barrel, but I expect it to outperform peers since it is better positioned than most to face the downturn. The stock is currently trading 7.6x in terms of EV/EBITDA multiple, slightly higher than the sector median of 7.5x, as per data from Seeking Alpha Essential. This is a good price considering Pioneer Natural Resources is one of the highest-quality oil stocks which typically trades at a premium over peers. I suggest those investors who hold a long-term bullish view on oil prices and can tolerate the short-term swings should consider buying Pioneer Natural Resources on weakness.
Disclosure: I/we have no positions in any stocks mentioned, and no plans to initiate any positions within the next 72 hours. I wrote this article myself, and it expresses my own opinions. I am not receiving compensation for it (other than from Seeking Alpha). I have no business relationship with any company whose stock is mentioned in this article.