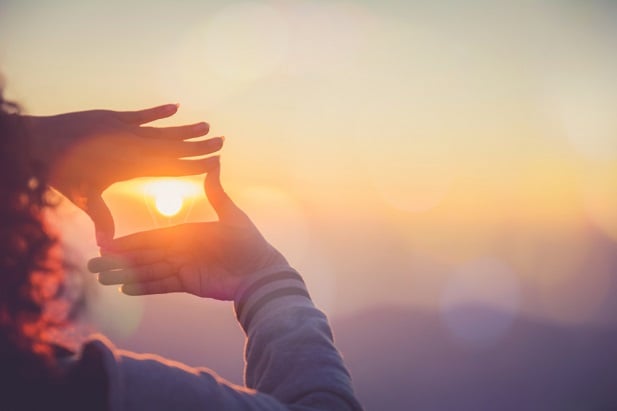 It's impossible to summarize the state of U.S. health care in 2021 in just five words, but "vaccines," "burnout," "access," "inclusivity," and "convenience" would come pretty close.
These were the terms that fueled thousands of headlines from January through December, in a year that saw promising innovations in consumer health, science, medicine, and awareness amid unprecedented challenges.
In 2021, employees and contractors balked at going back to their offices, resigning in such record numbers that the "Great Resignation" took hold, while many employers expanded mental health benefits for beleaguered workers. President Biden's American Rescue Plan extended economic relief initiated by the CARES Act of 2020, while renewed cries for better access to care, inclusivity, accountability, and price transparency grew louder.
The U.S. health system, meanwhile, experienced rampant clinical burnout. This, coupled with massive layoffs stemming from vaccine mandates, will have far-reaching implications for 2022, as positive Covid cases rise again, with more than 69,000 Americans hospitalized as of December 26.
Yet there are also a few beacons on the horizon that consumers will benefit from: Prescriptive artificial intelligence (AI) applications that can enable more personalized preventive care, innovations in remote monitoring and telehealth, and the growth of products and services tailored to preventive health care and convenience. After a challenging year, these are some of the developments that employers, health plans, and U.S. workers can look forward to.
Here, we take a closer look at four health care trends that will shape 2022:
1. Convenience will be the top driver of decision making
The idea of consumerization of medicine is not a new one, given that so many of us expect to be able to shop, bank, and access health information on-demand, via the device of our choice. But the pandemic supercharged it. As McKinsey noted in a recent study, "many consumers spent the past year … adopting in-home alternatives to out-of-home activities and shifting to online and omnichannel engagement," while the Los Angeles Times noted that the market for home-based health testing is booming. Amazon is piloting mobile-based blood draws (targeting consumers who don't have time or the means to leave home)
In 2022, Americans will be no less busy and harried than they were in 2020 and 2021. While we've learned to live with the pandemic, we've also come to expect convenience as a basic right. As such, it will drive most of our decisions.
2. Health insights will become actionable (and motivating)
Gone are the days when consumers just accepted a five-page printout with "ml/U" figures and unpronounceable blood tests and went about their days. In 2022, we're going to start to see health insights parlayed into next steps, or actionable insights.
For example, when we use a finger prick to measure blood glucose levels, we won't just receive a numerical value. We'll be able to log onto an app, and gain information about what that value means: Should we meet with our primary-care physician? Should we undergo a more comprehensive blood test? Should we start to consider how to change our diet and lifestyle? Health coaching apps and specialists will help us to bridge the knowledge gap between test results, clinical care, and our lives and plans.
3. Telehealth, in tandem with other solutions, will reshape the virtual experience
The majority of U.S. consumers have tried virtual care at least once, and many continue to use it for specialized visits, such as behavioral health consultations. As a McKinsey study noted, since its initial spike in April 2020, telehealth adoption overall now accounts for up to 17% of all outpatient/office visit claims.
In 2021, we saw the emergence of telehealth as part of hybrid solutions — virtual care plus in-person visits. This will continue in 2022, as will the use of telehealth accompanied by the use of virtual health monitoring apps, such as wearable sleep trackers or heart-rate monitors. This will benefit everyone, but especially consumers in rural parts of the country with limited access to care.
4. We'll see greater emphasis on cost savings, amid spending slowdowns
While 2021 was marked with a more robust economy and increased consumer spending, treating medical conditions is still expensive. Total direct costs for health care treatment of chronic diseases have skyrocketed, with the burden of health care increasingly falling on consumers.
We expect 2022 will be marked by a renewed desire for affordability. The good news for cost-conscious individuals and health plans is that many chronic diseases are preventable, through routine screenings, awareness, and behavioral change.
Employers and health plans can encourage preventive care to prevent chronic disease through the use of solutions such as home testing kits with app-connected wellness assessments, which provide biometric sensors to measure cholesterol, glucose, blood pressure, and resting heart rate.
Summarizing 2022, one trend at a time
While the focus on vaccines, burnout, access, inclusivity, convenience will continue to drive news headlines in 2022, promising innovations and growing awareness of preventive care will help to offset a lot of the cost challenges and uncertainty in the year ahead.
And while new obstacles will undoubtedly emerge in the New Year, focusing on the positive — such as innovations that support positive trends, like access and convenience — can transform consumer health for the better.
Travis Rush is the CEO of Reperio Health.