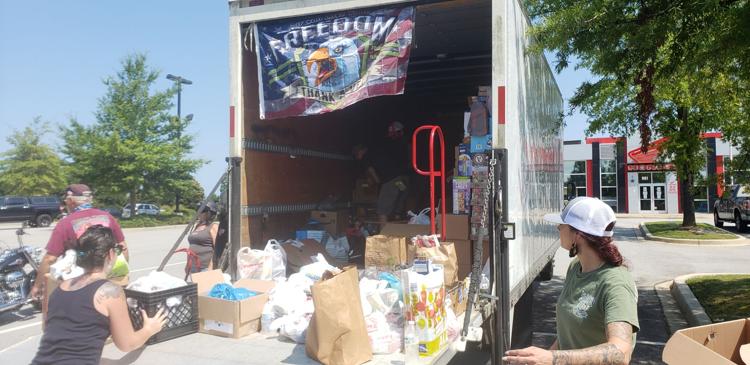 Representatives from Carolina Chrome Biker Magazine delivered canned food to the Columbia VA health care system Monday morning. The items were collected Saturday through the "Stuff a Truck" canned food drive event at Carolina Honda of Columbia. The amount of donations were able to fill an 18-ft. box truck.
David Omura, Director of Columbia VA Health Care System, said he was grateful for such generosity. "I'm just thrilled that our great community stepped up to help us out again today," he said.
Omura said the campus takes pride in knowing they have one of the only 24-hour food pantries for local veterans. "People think of us as just being about health care, but we are more than that. We care about these veterans and their families. We started the food pantry here several years ago, and we wouldn't be successful if it wasn't for donations like this," he said.
Omura, who is not one to shy away from physical labor, rolled up his sleeves and assisted Carolina Chrome Magazine in unloading the food.
Mark Anderson, service manager for Bailey and Sons Moving Company, was on-scene to help unload the canned goods and support the mission. Bailey and Sons donated the truck for the event.
Most of the Carolina Chrome staff were on scene for the offload, too. The "Ladies of Chrome," were also in attendance, and said if the need arises again during the pandemic, they will be ready to assist in another food drive.
Ladies of Chrome will be sending Christmas cards to veterans of the community. Anyone interested in assisting can contact Carolina Chrome Magazine.
Other organizations that supported the event:
Harley Haven Motorcycle Dealership
Thunder Tower Harley Dealership
VFW Posts 6740 and 8738
Warhorse Brotherhood Motorcycle Club
Warrior Brotherhood Motorcycle Club
Abate of South Carolina
US Military Vets Motorcycle Club
American Infidels Veterans Motorcycle Club
Disciple Christian Motorcycle Club
Iron Legacy Motorcycle Club