Good Doctor Technology Indonesia, a company providing holistic telemedicine powered by digital technology, has officially launched its smartphone app to make health care more accessible for Indonesian families. 
Following its partnership with Grab Indonesia to provide digital healthcare services solution for every family in Indonesia, Good Doctor has released its own Good Doctor integrated healthcare app that offers a seamless user experience, sleek and intuitive user interface. 
The recent launch of the new app also reflects Good Doctor's mission to create a strong ecosystem so that it can support its mission to make one doctor available for each Indonesian family through telemedicine so all Indonesian families can access the health care they need. 
By definition, thanks to the digital nature of the app, users can access the healthcare services they need anytime, anywhere.
As part of the launch of the new app, Good Doctor also works with celebrity couple singer Raisa and actor Hamish Daud to also inspire fellow families to use only telemedicine apps with reliable and demonstrated quality.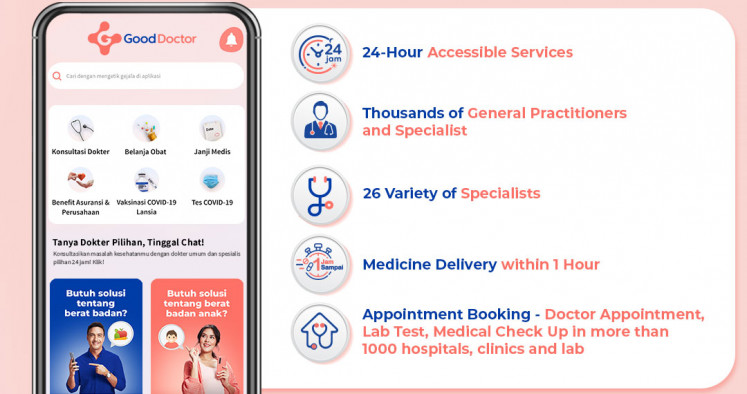 All-in-one: The Good Doctor app allows users to have access to 24/7 health-related channels, including access to virtual consultations including 26 variety of specialists, an e-commerce network boasting more than 2,000 pharmacies, and the ability to make medical appointments at more than 1,000 hospitals, clinics and laboratories. (./.)
Good Doctor itself presents a comprehensive healthcare solution, with services covering health-related Q and A through a channel that is active 24/7, handled by professional doctors from 26 specializations. 
It also helps users hold virtual consultations with these doctors, who also prescribe medication or refer them to other specialists if necessary, to help the users deal with their medical issues. At the same time, still on the information services realm, the app also provides various content on health care, wellness and lifestyle curated by Good Doctor's team of medical doctors.
To complement its telemedicine services, the app also has an e-commerce feature that helps users purchase various health and fitness products. Understanding the timely needs of medication, Good Doctor guarantees one-hour delivery to users from one of its 2,000 pharmacies partners with a fixed price, meaning users will pay the price stated on the platform, not in the price range. At the same time, the app also has a feature that allows users to make medical appointments across more than 1,000 hospitals, clinics and laboratories across Indonesia.
The expertise of Good Doctor's medical professionals comprises all healthcare sectors, including: geriatry, pediatric and maternity nursing, skin and beauty as well as chronic diseases.
The provision of telemedicine services in Indonesia is essential, since more people in the country have been adopting them.  
A survey carried out by market research company Nielsen in September 2020 revealed that among Indonesia's internet users, it was estimated that about 47 percent of them actively used telemedicine apps. The internet users typically live in big cities and regions covered with ample internet connection infrastructure. 
Meanwhile, at the same time, with more adequate ecosystems, these telemedicine platforms can encourage Indonesians who have yet to adopt the platforms (comprising 53 percent of all the internet users, according to Nielsen) to start using them. 
This is important because despite the increased adoption, most Indonesians are still unfamiliar with telemedicine services. Most recently, a publication made available by the World Bank on Jan. 25 mentioned that in Indonesia, only 7 percent of all Indonesians accessed healthcare services over the phone or through online platforms. Meanwhile, the 40 percent individuals surveyed said they had no idea that telemedicine services existed or did not know how to use them.
Finally, the remaining 17 percent said they preferred face-to-face consultations with medical doctors. The remaining said they could not access telemedicine services due to limited access to technology and internet connection, as suggested above. Some, meanwhile, said they were doubtful about the quality and security of online medical services.
The data mentioned above illustrate the challenges and opportunities for telehealth apps to continue growing in the country, in a collective effort to increase people's access to quality and affordable health care. 
"The Good Doctor application serves as concrete evidence for the company's commitment to assist the adoption of technology in the healthcare sector, especially amid the public challenges brought by the COVID-19 pandemic," Good Doctor Technology Indonesia managing director Danu Wicaksana said.
He continued that amid the mobility restrictions related to the pandemic, telehealth services become essential in helping homebound Indonesians access the healthcare services they need, especially in urgent situations.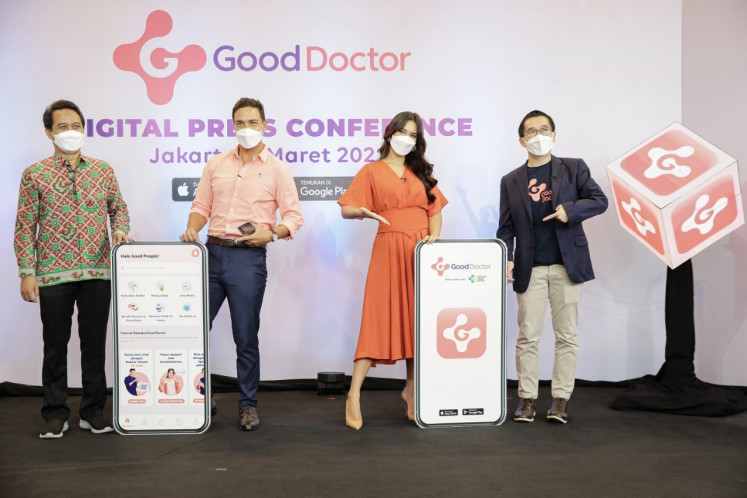 . (./.)
Apparently, Deputy Health Minister Dante Saksono Harbuwono conveyed some statistical evidence to support Danu's words: "In 2020, the frequency of visits that people made to the community health center (Puskesmas) declined by 83.6 percent".
He said that the dramatic decline in people's visits to the hospital and the Puskesmas was due to people's fears of contracting the coronavirus during their trips to these public health service centers.
Therefore, the evolving ecosystem of the telemedicine platforms helped to fill the vacuum of quality virtual healthcare platforms amid such limited circumstances, he said.
"[The ministry] hopes that telemedicine service models such as the ones developed by Good Doctor will continue to evolve into more practical and sophisticated ecosystems," Dante said.
Meanwhile, on the realm of telemedicine platform development in Indonesia, Communications and Information Ministry secretary-general Mira Tayyiba said that during the COVID-19 pandemic, due to people's increasing dependence on virtual healthcare services, the digital information and communications industry sector, especially telemedicine, was growing significantly.  
She cited data from Statistics Indonesia (BPS) that the information and communication sector grew by 10.58 percent year-on-year (yoy) in 2020. The growth of the telemedicine sector, part of the information and communication pillar, grew even higher, by 11.6 percent yoy in 2020. 
To capitalize on this positive growth, she said the ministry would continue to strengthen its cooperation with telemedicine providers along with relevant stakeholders to strengthen the telemedicine ecosystem. 
For instance, in late 2020, the ministry was partnering with Good Doctor and GrabHealth (superapp Grab's healthcare feature) to launch an independent virtual basic medical checkup feature on the PeduliLindungi (Care and Protect). The feature seeks to help individuals detect basic medical red flags as early as possible so they can seek help.
"Hopefully, we can step up on the collaboration in the future, so we can continue to boost the telemedicine ecosystem to create a healthier Indonesia while also accelerating its economic recovery post COVID-19," she said.
Finally, Danu added that Good Doctor also hoped that its ecosystem could help support the work of frontline healthcare workers as well as the government in the collective effort to mitigate the pandemic.
During the launch of the app, Good Doctor brand ambassadors Raisa and Hamish said they were happy that, as a family, they could partake in the effort to expand access to health care through virtual platforms. They said they believed the effort to create a healthier nation could effectively begin from the smallest unit of the society, namely the families.
Good Doctor is available to take care of your health and wellbeing, as well as that of your loved ones. You can download the application free-of-charge via Google PlayStore or iOS App Store by clicking here. For further information on the services provided by Good Doctor Technology Indonesia, visit gooddoctor.co.id.