Radica Health's telehealth technologies improve care efficiency based on thorough understanding of issues in ICU
Fighting COVID-19 has become the top priority of governments around the world as the virus ravages the world. COVID-19 is highly contagious and has forced the healthcare and high tech industries to join forces in designing contactless care systems in hopes of controlling the pandemic as early as possible. The Ted-ICU AI Platform and KIOSK that were recently released by Radica Health not only reduce contact between healthcare workers and patients, but also improve work efficiency through cutting-edge technologies.
Radica Health's core team consists of members with background in healthcare, which give them a profound understanding of healthcare facilities. "We hope to use the power of technology to resolve issues faced by healthcare workers on the front line," said Sam Lo, CEO of Radica Health. Lo further pointed out that the world's aging population is growing significantly, and with aging comes chronic diseases. This has caused a rapid increase in patients with severe illnesses as well as patients in critical conditions that require ICU care. Meanwhile, the number of healthcare workers is still very limited. This imbalance has resulted in a growingly heavy workload on healthcare workers, which further affects the quality of care they provide. "When Radica Health was founded, we primarily focused on helping healthcare facilities resolve the issues of telehealth for ICUs," he said.
The value of digital data makes ICU care smarter
Lo said that a wide variety of medical devices are used in the ICU, and healthcare workers need to jot down data on these devices regularly. However, paper records are error prone and subsequent data search and retention also become issues, so digitalization is very much needed. "Digitalization not only resolves these issues, but also provides the advantage of compiling statistics, analyzing, and creating greater value from data," Lo said. Nonetheless, digitalization is only the first step to making healthcare smarter. Communications and AI technology are also needed to improve the efficiency of critical care systems. While communications can help realize the vision of telehealth and allow health workers to monitor the condition of patients remotely, AI technology can assist in determining the condition of patients through accumulated data and enable healthcare workers to be more prepared.
Radica Health's Ted-ICU AI Platform can be linked to mainstream medical devices in the market, digitalizing physiological data and significantly improving the efficiency of healthcare. "In the case of data collection, for example, in the past, it used to take a healthcare worker about 10 minutes to write down the data for a single patient. Our platform automatically records and sends the data to the back-end, and healthcare workers only need to take a few seconds to confirm the information," Lo said.
For the system interface, the team has optimized the user interface for different devices. For instance, physicians can remotely log in from a handheld device, such as their smartphone or tablet to review the data. A dashboard design is used for nurse stations, and the physiological data of all patients in the ICU is displayed on a large monitor, so that healthcare workers can see the current physiological state of patients in an intuitive way. Radica Health has also jointly developed AI technology for healthcare with Ethan Tu's Taiwan AI Labs, and applied the technology in this system, using it to analyze the possibility of sepsis among patients with different critical illnesses.
Radica Health makes epidemic prevention smarter through a contactless platform
The outbreak of COVID-19 in 2020 brought extreme challenges to healthcare facilities. Radica Health utilized the technical capabilities it has accumulated to fight against COVID-19 and designed an isolation ward care system for healthcare workers to remotely monitor the physiological state of people who are quarantined and avoid being infected as a result of contact. Another product of Radica Health is the KIOSK machine at the entrance of healthcare facilities. The machine has heat sensors and a National Health Insurance (NHI) Card reader. The heat sensor is used to detect the body temperature of visitors, and the NHI card and ID card scanning function is linked to the system of the Ministry of Health and Welfare, providing information on travel history, controlled persons, or visits to high-risk regions within just three seconds. "These machines are already being used in numerous hospitals and have detected many controlled persons during the outbreak, helping prevent COVID-19 from spreading in hospitals," Lo said.
COVID-19 rages on despite the development of several vaccines, and Radica Health has thus focused its technical capabilities in the field of epidemic prevention, actively engaging in technical collaboration with academic, research, and medical institutes. Besides Taiwan AI Lab previously mentioned, the Industrial Technology Research Institute is also one of such institutes. Furthermore, Radica Health also plans to bring telehealth systems into households to form a more comprehensive healthcare network.
Lo mentioned that the environment for innovation has improved with the support of the government in recent years, and it has given his team greater space and opportunity for development. The healthcare industry's transition towards AI is an inevitable trend. Taiwan has world-class talent and technologies in the high tech and healthcare industries. The integration of the two industries will bring about even more competitive technical capabilities while accelerating the development of the ecosystem for next generation smart healthcare and precision medicine.
(Editor's note: The original article was published in TTA Magazine Issue 7. Read more startup stories in TTA Magazines.)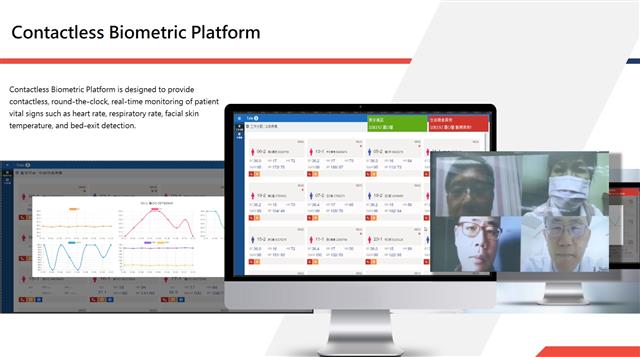 Radica Health's contactless biometric platform
Photo: Radica Health