The number of education related transactions was also up, with the largest increase in the value of these transactions seen in elementary and secondary schools. This reflects both an increase in education fees, along with a greater number of children enrolled in fee paying schools.
CBA Chief Economist Stephen Halmarick said a fall in spending intentions in most categories in June 2021 relative to June 2020 was not surprising, given elevated household spending last year as most parts of the country came out of the initial COVID-19 lockdown.
Pleasingly however, spending intentions across most categories in June 2021 was higher than June 2019 (considered the last 'normal' year), underpinning the continued robustness of the economy.
"Lower CBA HSI data in most categories in June compared to June 2020 reflects the pick-up in spending as the country came out of the initial lockdown last year. However increased spending intentions compared to 2019 underlines the ongoing strength of the economy, which is reflected in a wide range of other key economic data sources," Mr Halmarick said.
"Last month's increased spending in health & fitness on the prior year reflected a continued heightened consumer focus on this area. Increased spending on commercial and professional sports and club memberships also reflected changes to restrictions in June and an ability to attend these events and venues. Unfortunately, of course, this has changed again in July with the lockdowns in Greater Sydney and Melbourne."
CBA's HSI series offers a forward-looking view by analysing actual customer behaviour from CBA transactions data, along with household spending search activity from Google Trends. This combination provides a unique insight on prospective household spending trends in the Australian economy.
Health & Fitness Spending Intentions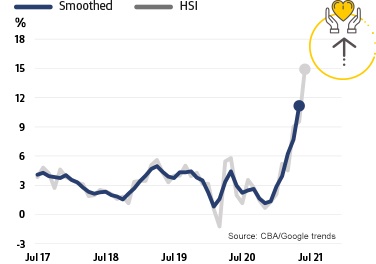 Education Spending Intentions